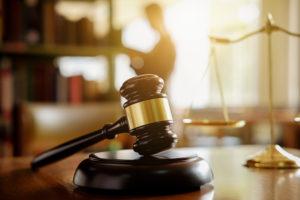 Ohio's contributory fault law, defined in Ohio Revised Code Section 2315.33, allows litigants to share a percentage of fault in an accident or personal injury claim. In a vehicle accident, the plaintiff may have been turning left on a yellow light as the defendant ran the yellow, hitting plaintiff in the intersection. Both drivers were stretching the limits of the yellow light and may be assigned partial fault for the accident.
Compensation in comparative fault cases may be split between the two litigants. If the plaintiff is 25 percent responsible, they will receive only 75 percent compensation. The level of the fault must be under 50 percent to receive compensation. If someone is more than 51 percent negligent, they will lose all rights to compensation.
Understanding the Law
Ohio is a "tort" state and uses a modified contributory fault law. In a vehicle accident, the driver that causes the accident is responsible for paying damages, including for the other vehicle involved. During the investigation, police and insurance companies will use various pieces of evidence from the accident to determine who was at fault.
In some cases, the fault may partially apply to each driver. When each driver is assigned part of the responsibility, you may still receive compensation if the determination equals a "fault percentage" of 50 percent or less. The assignment of fault, or negligence, can affect the settlement received.
For instance, if Driver A is 75 percent responsible, they are considered the "at fault" driver or defendant for litigation purposes. Driver B (the plaintiff) is 25 percent responsible for the accident or resulting injuries. The accident would be the responsibility of Driver A. Still, Driver B would only receive 75 percent compensation due to their fault percentage.
For a free legal consultation, call (614) 538-1116
Ohio Has Damage Caps
Economic damages are direct compensation for expenses, lost wages, and documentable costs associated directly with injury or loss. Non-economic damages are compensation for things that don't have a direct monetary correlation, such as pain and suffering.
In Ohio, the compensation for non-economic damages is limited to $250,000 or three times the economic damages. There is a further cap of $350,000 on non-economic compensation. Punitive damages are rarely awarded but have a high end of not more than twice the economic compensation.
Contributory Fault in Car Accidents
Contributory fault is most often seen within the scope of vehicle accidents. Motorists are required to carry a minimum amount of liability insurance. This minimum insurance covers damage and injury to the driver of the other vehicle if you are at fault for an accident.
Ohio's minimum liability insurance is known as a 25/50/25 plan because it provides:
$25,000 for injury or death with one person
$50,000 for all injuries with more than one person involved
$25,000 for the total property damage for a single accident
In some cases, drivers may opt for additional, comprehensive, or collision coverage that would protect them in an accident. Some auto loans require full coverage, including collision while the vehicle is under a lien.
Click to contact our personal injury lawyers today
Contributory Fault in Worker's Compensation
Workers' compensation cases may sometimes fall under contributory negligence rules. In Ohio, contributory negligence does not apply if the employer violated state or federal laws when the employee was injured.
Ohio Revised Code Section 4113.07 explains that if the employer violates safety laws, the accident is treated under similar rules as no-fault insurance. The employer is culpable regardless of any fault on the part of the employee.
Complete a Free Case Evaluation form now
Contributory Fault in Premises Liability
Premises liability includes claims against a homeowner or business insurance for accidents on privately owned property. If a person receives injuries on your property, the rules of contributory fault apply to any compensation they may receive from incidents such as slip and fall accidents.
Dog Bite Claims
Dog bite claims fall under Ohio Revised Code Section 955. Section 28 of the code states that the owner is "strictly liable." That means an owner is responsible for any injury caused by their dog.
The Elements of Negligence
In any personal injury claim, the four elements of negligence must be present to prove who was at fault for the accident. These apply whether it was a vehicle accident, premises liability case, and all other types of personal injury claims. The four elements are:
Duty of Care: This provides that the defendant had a responsibility to do a certain thing, such as following the rules of the road while driving.
Breach of Duty: When a person does not accomplish their duty, it is a breach, such as when a driver speeds or drives under the influence of alcohol or illegal substances.
Causation: If the defendant's behavior directly caused the accident or injury, causation is evident.
Damages: When an incident causes the plaintiff to miss work, suffer injury, and other damages associated with the accident.
Under Ohio's contributory fault law, negligence may apply to both the defendant and the plaintiff. In those instances, adjustments to the level of compensation may reflect the plaintiff's responsibility for partially causing or making the results of an accident worse.
Finding Legal Representation That Suits You
Our personal injury lawyers at Bressman Law are familiar with the application of Ohio's contributory fault laws. We understand how it can affect a settlement in personal injury cases and will fight for your compensation. Contact our personal injury team for a complimentary case evaluation.
Call or text (614) 538-1116 or complete a Free Case Evaluation form